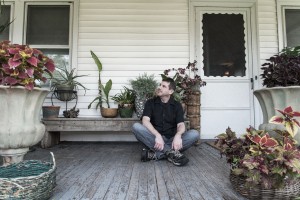 Dave Kopperman's eclectic music at once evokes the folksy harmonies of the Byrds, the tuneful songwriting of Paul McCartney, the literate yet emotive lyrics of Paul Simon, the ambient, progressive textures of Pink Floyd and the no-nonsense rocking of Talking Heads. A jack-of-all-trades as a singer-songwriter and multi-instrumentalist, his new self-produced album Island off the Coast of America is imbued with his devotion to classic analog textures like the Moog synthesizer, 12-string guitar, Hammond organ, and Rhodes electric piano.
Past CDs of his work as a bandleader and songwriter have included Copper Man's Selling the Downtown Dream and Analogue's The Future Is Ours and he has co-led The Tappan Sea, whose debut album is slated for issue in 2016. He toured and recorded as a member of Lizard Music (alongside musicians who went on to play with Cat Power, Wilco and Denny Laine) and has performed in bands including Volcano, Us Not Them, Lost, Lonely & Vicious, and Battershell.
In addition to music, Dave is also a skilled visual artist and devotee of the graphic novel form. He is a native of Rockland County, New York, just north of NYC on the west side of the Hudson.
---